Welcome back to EP Alumni Quarterly! This is the "back on campus" edition. Read below for a full update on Homecoming 2023 and to see what many of your fellow forever Mustangs have been up to.
Original Mustangs Return for Senior Citizen Dinner
Two members of the EPCHS Class of 1958, the first Evergreen Park High School class to graduate from the building at 99th and Kedzie, returned to the school this month as a pair of guests for the Senior Citizen Dinner, an annual event sponsored by the EPCHS Principal's Office. Pictured above are Patricia Petersen and Harry Edens.
Trio from the Class of 1983 Tours EPCHS
Above: Dan McGowan, Marianne (Emich) Vuckovich and Jean (Lusk) Wells, all from the EPCHS Class of 1983, enjoyed a personalized tour of the school building during Homecoming weekend. The three are shown here in what was known for years as the Senior Lounge. The Class of 1983 held their 40-year reunion at Reilly's Daughter that same weekend.
We were thrilled to see so many EPCHS Mustang alums in attendance for the annual EPCHS Scholarship Foundation fundraiser at 115 Bourbon Street.
Raffle baskets, football squares and a split-the-pot highlighted the afternoon as attendees watched the Chicago Bears take on the New Orleans Saints.
Proceeds from the fundraiser will benefit the EPCHS Scholarship Foundation, which helps current EPCHS continue their education past high school.
The 2023 Homecoming King and Queen are Jermiah Whiteside and Samantha Ricks. It's the third year in a row in which a member of the Whiteside family has won Homecoming King.
Other members of the Homecoming Court are Brian Benford Jr., Lamiya Easley, Titus Morgan, Alyssa Mora (Seniors), Joe Duffy, Xalani Mitchell (Juniors), Seyenna Billings, Lonnie Mosley (Sophomores), Aiden Carr and Salem Majoch (Freshmen).
The annual Homecoming pep assembly brought out an abundance of Mustang Pride as students participated in a tug-of-war contest, paper, scissors, rock championship and enjoyed performances from the EPCHS band, Color Guard, dance team and cheerleaders.
Students and teachers got creative with many of the hallway decorations and door designs throughout the building. A special thank you goes out to Evergreen Park Mayor Kelly Burke, who dropped by the school to judge the decorating contest.
Our football team wrapped things up in a big way, winning 33-7 over Argo and clinching a berth in the IHSA Playoffs in the process!
Do you know an EPCHS alum who would make a good spotlight feature? If so, email their information to Tim Moran at tmoran@evergreenpark.org and we will get them featured as well!
Mustang Alum Retires After 40 Years with BAPA
Grace Kuikman, a 1971 graduate of Evergreen Park Community High School, recently wrapped up an amazing career with the Beverly Area Planning Association that spanned part of five decades. For much of her time with BAPA, Grace was the editor of The Villager newspaper.
Giving Tuesday is a movement that unleashes the power of radical generosity around the world. Held annually on the Tuesday after Thanksgiving, this year's Giving Tuesday is set for November 28, 2023.
Although it's a worldwide movement, participants are urged to give back locally. We hope you will consider a donation to help your alma mater by supporting the EPCHS Foundation.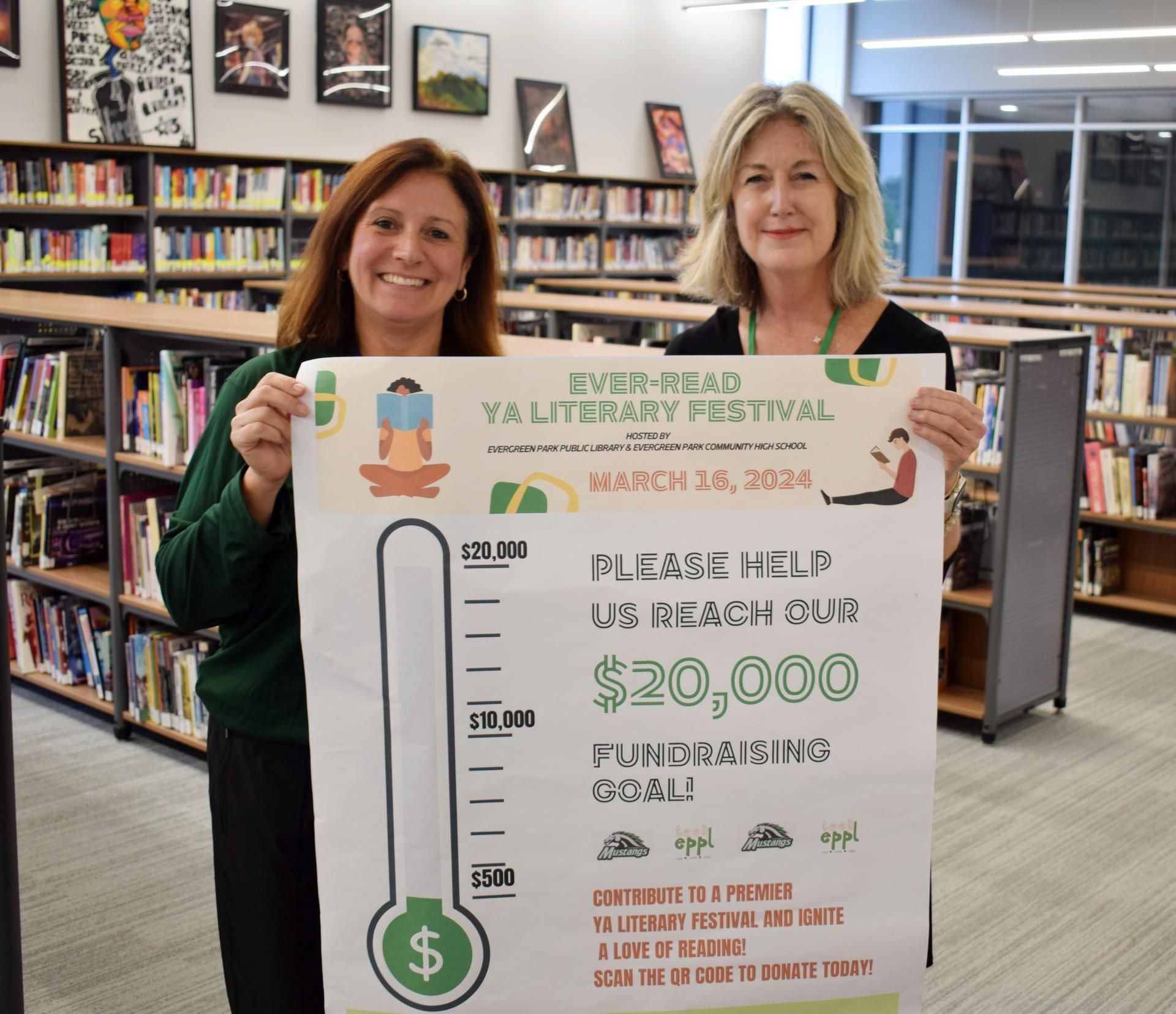 An ambitious fundraising campaign of $20,000 is underway to bring the first Ever-Read Young Adult Literary Festival to Evergreen Park. The festival, hosted by Evergreen Park Public Library and Evergreen Park Community High School, will feature national and local authors, and attract readers from Evergreen Park and surrounding communities. This event is in the books for March 16, 2024, but it can't happen without local
support!
With the generous support of the community, the festival will draw an author of national prominence to serve as the keynote speaker. Nationally-recognized authors such as Arshay Cooper, Kwame Alexander and Angeline Boulley have been named as potential keynote speakers.
"Literary festivals build excitement around reading," event organizers Dr. Tina Ward, media specialist at EPCHS, and Mary Black, teen librarian at Evergreen Park Public Library, wrote in a letter to sponsors.
"Students will connect to authors and books, participate in panel discussions, attend writing workshops and take home a signed book to treasure."
Ward and Black have miles to go, however, before they can reach or exceed their sponsorship goal. With sponsors like you, donations in any amount from $5 to $3,500+ will help to bring in national authors, provide books for teens, promote the event, and reignite a love of reading for fun. Donations can be made at Evergreen Park Public Library, 9400 S Troy Ave, or online at evergreenparklibrary.org/events/ever-read.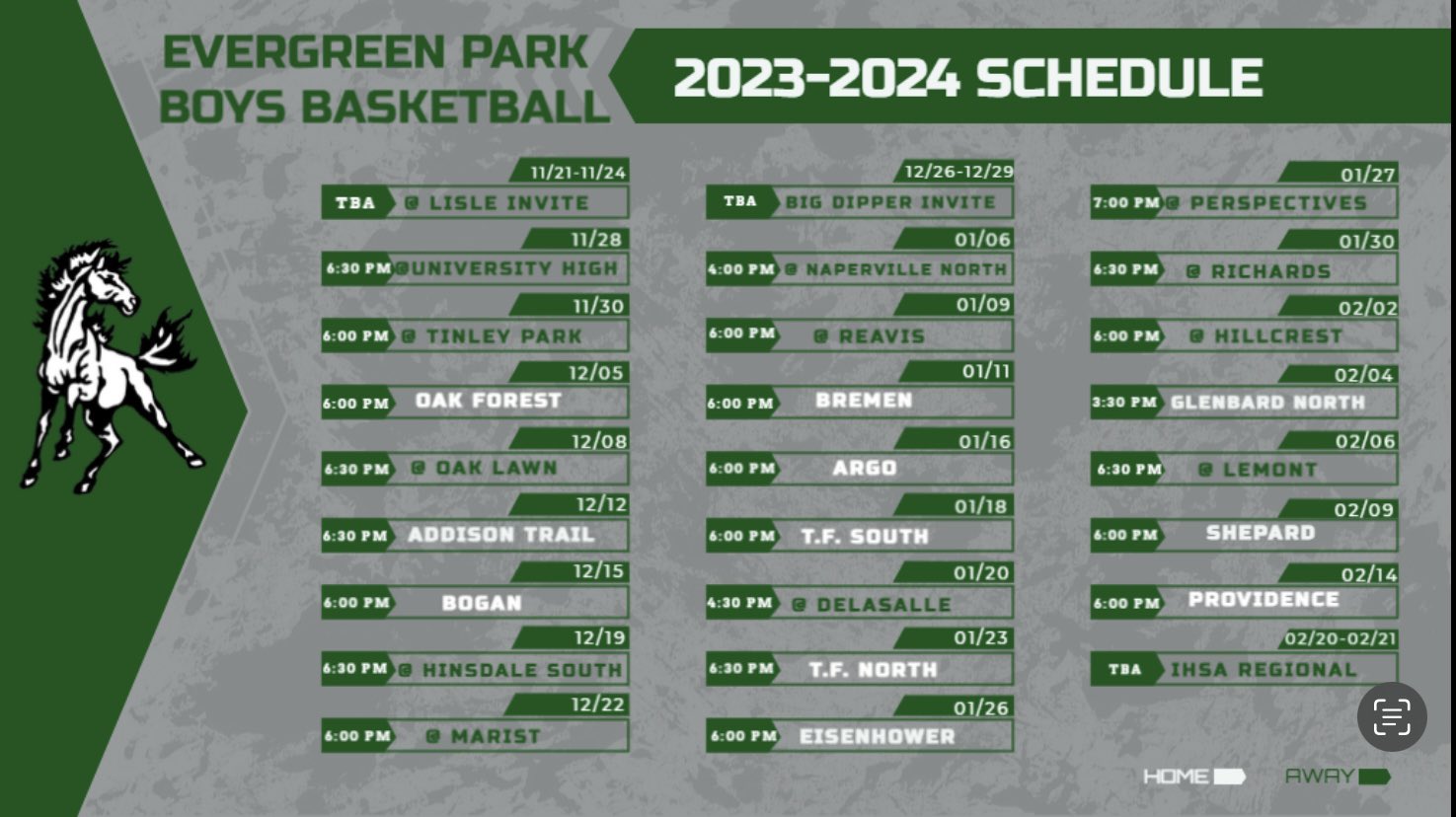 Cross Country star Rocco Cipolla's legendary running career at EPCHS continued by breaking the school record in the 3-mile race and winning both the conference and regional individual championships this past month. He is now a 3-time state qualifier. Rocco has announced that he will attend Roosevelt University in Chicago next year.
The Mustang football team qualified for the IHSA playoffs yet again after posting a 6-3 regular season record.
Senior football captain Eduardo Antunez headlined a list of nine Mustangs who earned All-Conference honors. Antunez was also named the South Suburban Red Conference Lineman of the Year.
The Mustang 200 freestyle relay swim team of Maeve Faulkner, Lilli Gleason, Damayanti Argueta and Morgan Brady took 1st place in the South Suburban Red conference meet at Oak Lawn.
November means basketball season is right around the corner. The boys team will begin their season at the Lisle tournament from November 21-24, with the home opener set for December 5 against Oak Forest.
The EPCHS girls basketball season starts at the Richards tournament from November 11-13, with their home opener slated for November 14 against Kennedy.
Our sympathy is extended to the family of former teacher Atalanta Patsavas, who taught French and Spanish at EPCHS from 1969 until her retirement in 2000. She also served as a division chair for 10 years. See her obituary here

Our sympathy is extended to Carol Dartsch, wife of former math teacher Bob Dartsch. Bob taught at EPCHS from 1967 until his retirement in 2001. See his obituary here