May 2022 EPCHS e-Newsletter
Dear EPCHS Parents and Guardians:
It might be hard to believe, but we are coming up on just one month remaining in the 2021-2022 school year.
It has been quite a successful year all-around, and the month of April included some unique highlights. Our STamPede booster club selected its Staff Members of the Year: science teacher Bryn Zingrebe and TMS supervisor Vern Estes. Parents, we appreciate your support with the SAT and PSAT testing held the week before spring break. Our students did an excellent job focusing on the assessments and we had near-perfect attendance! Please continue to have conversations with your children regarding their academic progress. We want all of our students to be successful and complete the school year on a positive note.
We were proud to watch from home as our Band, Choir and Color Guard thrilled the crowds at Walt Disney World during our spring break.
We are looking forward to a great month of May, with Honors Night and the Mustang Pride Breakfast, among other events, to cap off this awesome school year.
Sincerely,
Thomas O'Malley - Superintendent
STamPede

Staff Members Of The Year
The STamPede booster club at Evergreen Park Community High School has announced the winners of its annual Staff Members of the Year award.
Selected by students via a Google ballot were Ms. Bryn Zingrebe (certified staff) and Mr. Vern Estes (support staff).
Zingrebe and Estes were presented with a certificate and cash gift compliments of STamPede, which includes students, teachers and parents at EPCHS. STamPede helps fund school-related efforts outside of athletics and music, which both have their own booster clubs.
EPCHS would also like to congratulate the following staff members who were runners-up:
Certified Staff: Kevin Knapik (2nd Place), Amy Kazin (3rd Place)
Support Staff: Katie Hyland (2nd Place), Lisa Shields (3rd Place)
Mr. Smith Named To Pre-AP National Faculty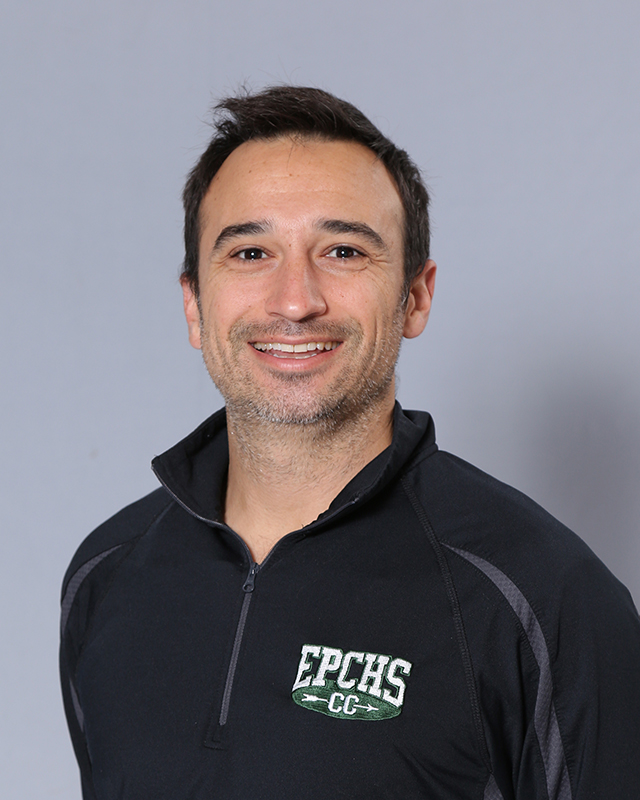 Evergreen Park Community High School District 231 is proud to announce that Jim Smith has been appointed to the Pre-AP National Faculty for demonstrating effective teaching practices, proven classroom success, and his experience leading professional learning. Smith is the division chair for the Mathematics Department at EPCHS.
After a rigorous application process, Smith was selected to represent and serve as National Faculty for the Pre-AP Program, joining over 300 National Faculty members from across the United states. Pre-AP National Faculty members are College Board-endorsed educators who facilitate professional learning experiences in over 46 states and 1,000+ districts across the nation and around the world. They are stewards of College Board's mission to clear a path for all students to own their future by promoting excellence and equity in education.
We congratulate Mr. Smith on his appointment to the Pre-AP National Faculty and joining the College Board's mission in promoting academic achievement for all students.
SPRING BREAK AT DISNEY: The entire EPCHS Fine Arts Department (Band, Choir and Color Guard) spent much of Spring Break at Walt Disney World in Florida. Among the highlights was the band marching in the Festival of Fantasy Parade at the Magic Kingdom.
Have a look below at all the fun!
EPCHS Junior Jamia Head Named A Thrive Scholar
Jamia Head, a junior student at Evergreen Park Community High School, is among the newest Thrive Scholars. Thrive Scholars are named throughout the United States to help high-achieving and underrepresented students get into and graduate from top colleges and become equipped to achieve their full career potential.
"I was in shock, and thrilled about the opportunity," Head said when she learned her application had been accepted. "The entire program, including the transportation and housing, is paid for, so it will be really cool to stay on a college campus."
As a Thrive Scholar, she will attend a mentorship program this summer, and, in college, get two years of help with academics and two years of assistance through a career adviser.
Head is an honors student and heavily involved in activities at EPCHS. She's a member of the school's Color Guard and Choir, as well as the SADD, International Club, National Honor Society, Madrigals and Unaccompanied Minors clubs. She played a character in the recent EPCHS production of "SpongeBob: The Musical."
Amy Kazin, EPCHS Activities Director, said she was happy to write a letter of recommendation in support of Head.
Head cites Kazin as one of the many teachers at EPCHS who make going to school "enjoyable."
"She puts a lot of work in to the things she does, and is always willing to vouch or do something extra to help us out," Head said.
HONORS NIGHT at EPCHS took place on Monday, May 2. That's when Bryn Zingrebe and Vern Estes were presented their plaques for winning the STamPede Staff Members of the Year award.
The newest members of the EPCHS Hall of Fame were also introduced: Joe Ziemba, Mark Marzullo, Stanley Greanias and Leila Younger.
EPCHS To Honor Baseball Legends
⚾The month of May will include two number retirement ceremonies at our new, state-of-the-art, baseball field. On May 5, we will honor Jim Adduci, a 2003 EPCHS alum who played Major League Baseball for the Chicago Cubs, among other teams. On May 16, it will be Donn Pall Night, when we recognize the 1980 EPCHS alum who played for the Chicago White Sox, among other teams.
Ceremonies for both events are scheduled to begin at 5:45 p.m. ⚾
Mr. Pender's Amazing Photo Collection
Many people who have been around EPCHS over the past decade know of substitute teacher Jim Pender's love for his favorite team, the Chicago White Sox. But few have taken their fandom to the level he has.
Mr. Pender has found, and printed out, photographs of nearly every White Sox player in the team's history, which dates back to 1901. That's more than 1,800 players! At last check, he only needs five photos to complete his collection.
The Evergreen Park Mustangs softball team has been on fire, racing out to a 14-2-1 start to the season. Starting pitchers Lily Strand and Nicole Reynolds have both thrown no-hitters. The Mustangs were ranked No. 8 in the latest Daily Southtown rankings.
Our baseball team picked up a huge win over perennial power and ranked Mount Carmel. They followed that up with a pair of back-to-back wins over conference rival, Argo and are hitting their stride at the right time of the season.
The Saint Xavier University baseball team, which is packed with EPCHS Mustang alums, has played a few home games on our field this season. EP alum Patrick Doran belted a home run in one of the Cougars' wins at his alma mater. Teammates and cousins Declan Smyth and Jimmy Smyth, also former Mustangs, were named Conference Player of the Week for SXU in back-to-back weeks in April.
Malik Kelly, a senior leader on the EPCHS boys basketball team in 2021-2022, will continue his academic and athletic careers at Moraine Valley Community College after signing a National Letter of Intent.
Important Dates In May:
May 5: Jim Adduci Day
May 10: STamPede Meeting
May 12: NHS Blood Drive
May 16: Donn Pall Night
May 17: STamPede Spring Treat
May 19: Mustang Pride Breakfast
May 20: Seniors' Last Day
May 20: Perfect Attendance Breakfast
May 22: Prom
May 30: Memorial Day (No School)