Dear EPCHS Families:
We are off to a terrific start to the school year. Although the calendar just hit September, we've seen a multitude of successes in athletics, academics, and activities.
As many of our Mustang sports teams began their seasons with victories, the school itself started the year off on the right foot. For the first time in my 34 years of working in education, I saw empty halls the moment after the opening bell rang on our first day of school. This meant that every one of our students, freshmen included, knew exactly where to be for their Block One class. This is a credit to our faculty and staff but especially you, the parents!
Our students have adapted well thus far to some of the policy changes we've made since last year, perhaps most notably the new cell phone policy.
As mentioned above, our football, volleyball, soccer, and swimming teams all started their seasons off with wins. Our golf team opened their season with six consecutive dual meet wins.
EPCHS's first-month successes aren't limited to sports. The Association of Illinois School Library Educators recently informed us that our school library is one of only six in the state of Illinois to be named "exemplary," and our art program has landed EPCHS as a "School of Distinction" by the Illinois Art Educators Association.
We have a busy month of September ahead of us, so let's maintain the positive momentum. As always, we appreciate your support!
Sincerely,
Thomas O'Malley - Superintendent
LRC, Art Department Recognized With Awards
LRC Deemed 'Exemplary'
The Learning Resource Center (LRC) at Evergreen Park Community High School has been recognized as one of just six school library programs that have earned the Association of Illinois School Library Educators (AISLE) Exemplary School Library Award.
Specifically, the award mentioned EPCHS Librarian Dr. Tina Ward and Assistant Superintendent/Principal Bill Sanderson. Ward and Sanderson applied for the award on EPCHS' behalf.
AISLE established the award in 2018 to recognize school libraries throughout Illinois that exemplify the standards set forth in the "Linking for Learning: The Illinois School Library Standards" book.
"I cried tears of joy," Ward said. "It was the result of a year's worth of work. This was a very thorough and in-depth process."
The award is a recognition for three years, meaning EPCHS will hold the exemplary school library award until at least 2025.
A 'School Of Distinction' In Art
The Illinois Art Education Association (IAEA) is pleased to recognize Evergreen Park Community High School as a 2022 School of Distinction. EPCHS is one of only five schools across Illinois to receive this honor.
The recognition celebrates schools with rigorous art, design and media education programs. To earn the School of Distinction Award, EPCHS evidenced practices directly reflecting the Illinois Professional Teaching Standards, the Illinois Fine Arts and Media Standards, and Social-Emotional Learning Priorities.
The IAEA is proud to honor art teachers Libby McArthur and Tom Guerra for their distinguished programming and the students' significant opportunities.
"We are extremely excited to be honored as one of the 5 schools named, as we have been working hard through COVID to remain a high-achieving and innovative program," McArthur said.
McArthur said EPCHS proved evidence of achievements in curriculum and assessment, authentic learning, showcasing student learning, connected communities, leadership and advocacy and professional development and training, among other attributes, in having been selected.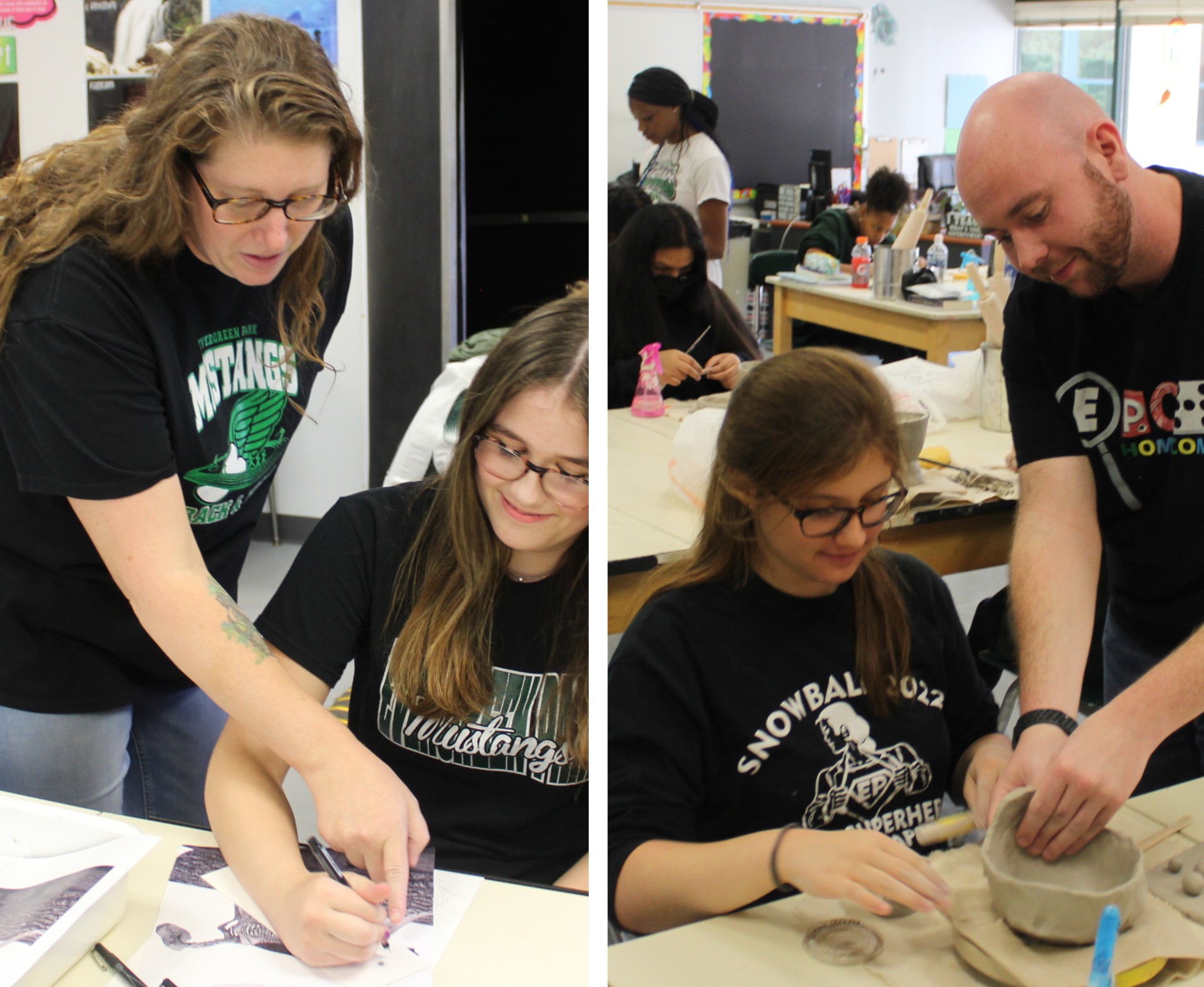 Above: Libby McArthur helps one of her drawing students and Tom Guerra helps another in his 'Ceramics, Sculpture and Jewelry' class.
New Football, Wrestling Scholarships
We are pleased to announce the addition of two new annual scholarships, one for football and the other for wrestling. The student athlete scholarships are the result of donations from Nicholas (Nick) and Candace Mizaur. Nick Mizaur is a 1986 EPCHS alum who participated in football, wrestling and track for the Mustangs.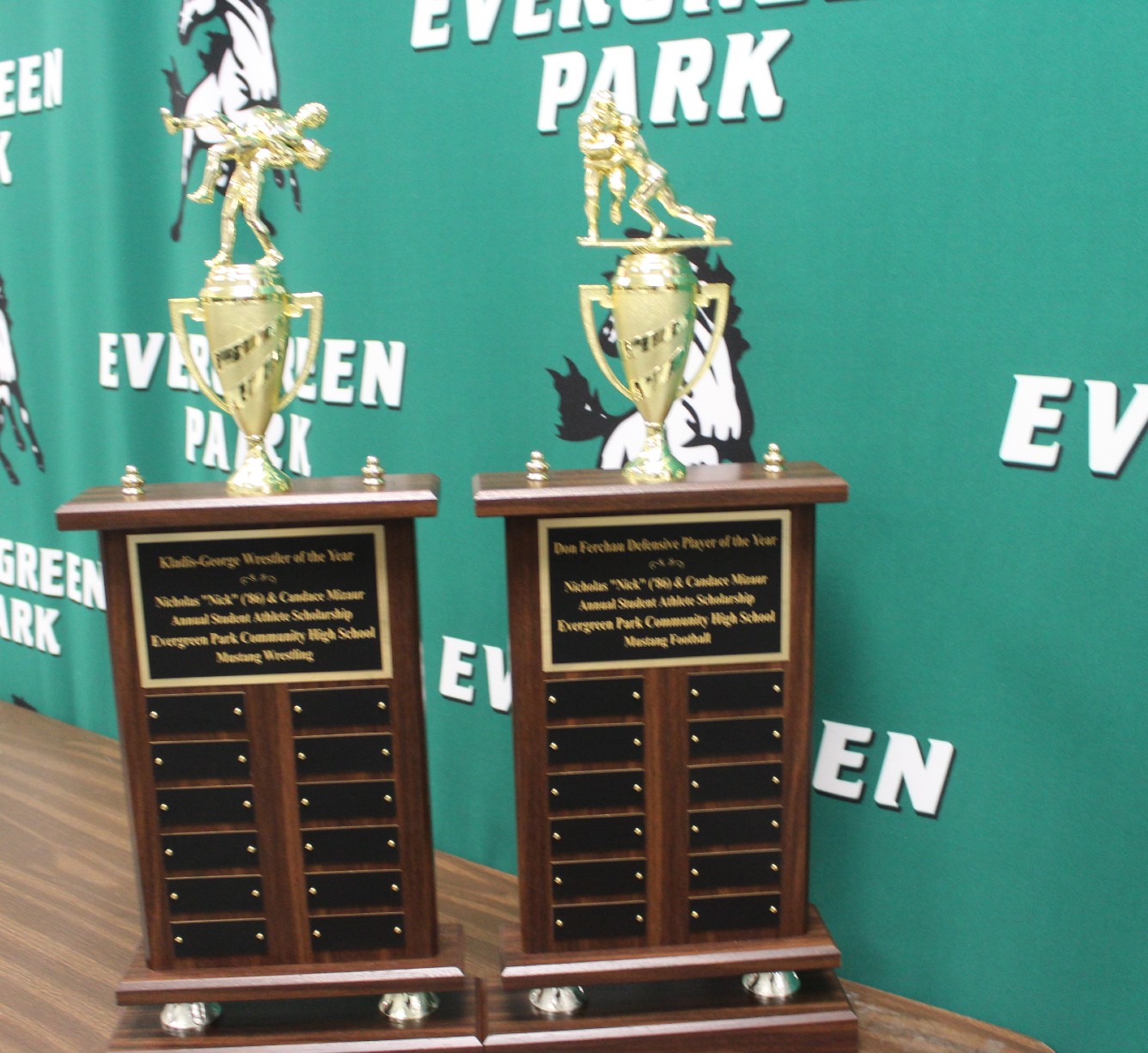 The Don Ferchau Mustang Defensive Player of the Year Award will be open to any varsity defensive player on the Mustang football team. Students must be academically eligible and have no behavioral infractions during the entire school year to be eligible for the award.
The football award is in memory of Don Ferchau, Mizaur's Varsity Football coach during his years at Evergreen Park. It's the reinstatement of a Defensive Player of the Year award that Mizaur himself won in 1984.
"In the early 1980s, Head Varsity Football Coach Don Ferchau had introduced the award to be given annually to the best defensive player at the fall awards ceremony. Coach Ferchau stated at that time that he funded the award with his own money. Coach Ferchau died in September of 2019. His passing made me think about this award, how I could reinstate it, and provide something for the player who earned it," Mizaur said.
The Kladis-George Mustang Wrestler of the Year Award will be given to one varsity wrestler a year, Mizaur said, with the same academic and behavioral requirements for eligibility as the football award. Mike Kladis, Mizaur's former Mustang wrestling coach and John George, a former Mustang athletic director and wrestling mentor to Mizaur, share the namesake honor.
"I was coached and mentored by both men," Mizaur said. "My original interest and subsequent success in wrestling was partially due to their coaching and mentorship. With proposing the reinstatement of the football award, I thought it would also be beneficial to promote wrestling too."
Both awards will be associated with display trophies (pictured above) that will have the winners' names engraved on them every year. The scholarship awards will be in the amount of $1,000 each, with the Evergreen Park Community High School Foundation managing the scholarship funds and sending them to the college or trade school of the winning student's choice.
Mizaur, now the CEO of an Omaha, Nebraska based company, said the scholarship awards could become cumulative for student-athletes who win them multiple times.
"My wife and I are fortunate enough to be in the position to give back, and my time at Evergreen Park left a lasting impact on me," he said. "Football, wrestling - and track - those sports were very impactful and taught me a lot of life lessons about teamwork and leadership."
IN THE CLASSROOM: Follow all the interesting and unique projects students are working on in the classes with the new 'In The Classroom' section on the EPCHS website!
3-ON-3: EPCHS will host a 3-on-3, co-ed, grade school basketball tournament before the September 9 football home opener. See the QR code below or fill out this form to sign up.
NEW STUDENT AMBASSADORS: Seniors Jack Donnelly and Helen Joyce are the new student ambassadors to the Evergreen Park Community High School District 231 Board of Education.
Watch here as Helen and Jack urge their classmates to proudly sport their Mustang gear on Mustang Pride Fridays.
From left: Gianna Pinotti (social worker intern), Carlos Ruiz (Spanish teacher), Anera Reid (English teacher), Terence Masterson (business teacher) and Robert Rymek (industrial arts teacher).
The EPCHS Mustang football team got off to a hot start with a 40-0 win over the Manteno Panthers on the road. Touchdowns were scored by Deijon Feliciano, Jed Adjayi, Antonio Clay-Jones and Keyshawn Lee.
The volleyball squad also got off to a dominating start, pulling off season-opening victories over Rich Township at the varsity, JV and freshman levels.
Boys soccer, likewise, started 1-0. Miguel Ceja had three of the team's five goals in a 5-1 road win over Chicago Christian.
Another 1-0 start: The girls swimming & dive team topped Argo in their season-opening meet.
Our cross country star, junior Rocco Cipolla, finished first overall in the season-opening race against Oak Forest and T.F. South. He finished more than four minutes before the runner-up.
Both the varsity and JV golf teams went 6-1 during August.
Maggie Tracy (above) and Taylor Evans are the captains of the EPCHS varsity volleyball team.
Important Dates In September:
September 5 - Labor Day, No School
September 9 - Shadow Day
September 9 - Grade School 3-on-3 Basketball Tournament
September 9 - Football opener vs. Oak Lawn
September 13 - STamPede meeting
September 21 - Science Night
September 23 - Shadow Day
September 27 - Picture Day