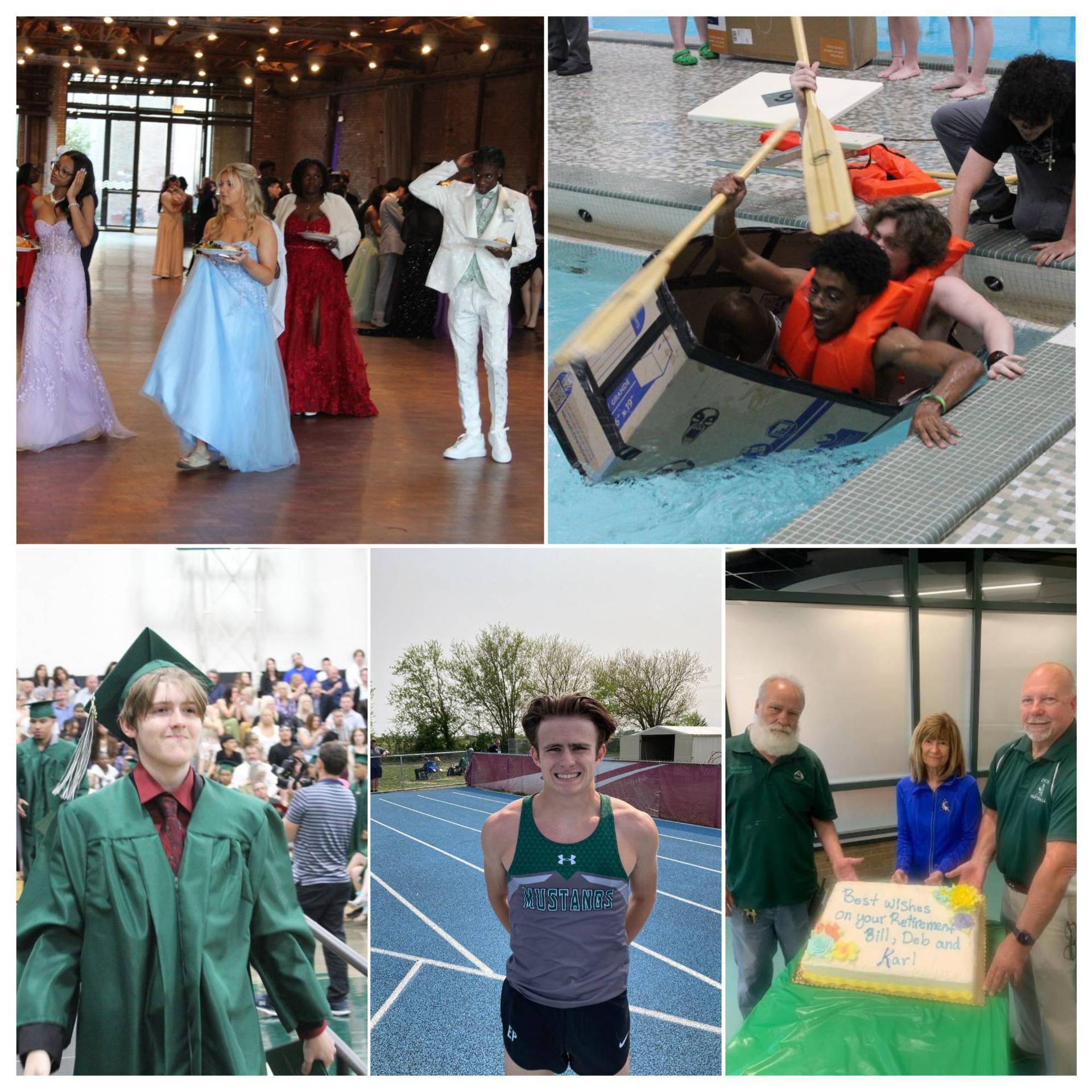 Dear EPCHS Families:
We've made it through the 2022-2023 school year! It was a year filled with accomplishments from throughout our Evergreen Park Community High School community, and one that saw many of its highlights come during the month of May that just wrapped up.
Our Class of 2023 represented us well during our May 24 graduation ceremony. We're thrilled that the majority of our graduates will be attending either 2-year or 4-year colleges and universities, as others will be entering either the work force, trades or military. Our valedictorian, Helen Joyce, and co-salutatorians, Leo Cassidy and Nicole Reynolds, summed it up best in their stellar graduation speeches that night.
As our students, faculty and staff were wrapping up a busy year academically, the spring of 2023 will go down as one to remember for our athletic teams. Our varsity baseball team won the outright South Suburban Red Conference championship for the first time since 1986 and out varsity softball squad also won conference, the first time for that program in more than 20 years. In addition to both teams boasting a number of All-Conference selections, Alejandro Munoz was named the Conference Baseball Player of the Year and Lily Strand was voted the Conference Softball Player of the Year for the second year in a row.
We'd also like to take this time to wish a happy retirement to two members of our administration who have been instrumental in making Evergreen Park Community High School the place it is today. Principal Bill Sanderson and Director of Curriculum Deb Schillo have put forth a combined 45 years of service to our school and have done an exceptional job meeting the needs of our students and families. We will miss their professionalism and wish them the best on their well-deserved retirements.
Lastly, I'd like to wish you all a happy summer, and look forward to seeing many of you again as the 2023-2024 school year begins come mid-August.
Sincerely,
Thomas O'Malley, Superintendent
Seniors Become Alums at Graduation
More than 200 seniors became EPCHS alums on the night of May 24, when they crossed the stage at graduation. Highlights of the ceremony included addresses by Valedictorian Helen Joyce and Co-Salutatorians, Leo Cassidy and Nicole Reynolds.
Top Left: Nicole Reynolds approaches the stage for her co-salutatorian address, Bottom Left: Co-salutatorian Leo Cassidy addresses the graduation crowd as Superintendent Thomas O'Malley and Principal Bill Sanderson listen. Right: Valedictorian Helen Joyce receives her diploma.
The 2023 valedictorian and co-salutatorians at Evergreen Park Community High School were recognized during the Illinois Principals Association South Cook region's annual Student Recognition Breakfast on May 4 at the Odyssey Country Club in Tinley Park. The event recognizes the best and the brightest students in the south suburbs.
EPCHS students recognized at the event were seniors Helen Joyce (valedictorian), Leo Cassidy (co-salutatorian) and Nicole Reynolds (co-salutatorian).
"I'm extremely proud of all three students and how they have represented our high school the past four years," EPCHS Principal Bill Sanderson said. "It has also been an honor and privilege to work with Helen and Nicole for the past six years as they were both part of our math skippers program in 7th and 8th grade."
Helen Joyce, the 2023 EPCHS valedictorian, has received the Illinois Council of Teachers Mathematics award, the Evergreen Park American Legion Auxiliary #854 award and the Illini Girls State Award. She is an AP scholar with honor and an Illinois State Scholar.
Joyce serves as the student ambassador to the Evergreen Park Community High School District 231 Board of Education and is the National Honor Society (NHS) president, Student Government president, Future Business Leaders of America (FBLA) secretary and Scholastic Bowl captain. She is also a group facilitator for Operation Snowball and a member of Professional ABC, Mathletes the Principals Advisory Committee and Student Leadership.
Joyce will attend the University of North Carolina this fall and major in business marketing.
Leo Cassidy, one of two co-salutatorians, recently earned the prestigious Chick Evans scholarship. He has also competed in golf at EPCHS, winning individual conference titles his junior and senior years, the team MVP award his sophomore, junior and senior years and was the team captain his junior and senior seasons.
He has been the FBLA president his junior and senior years, the NHS vice president his senior year, a Snowball retreat small group leader, the creator and founder of the EPTV club, an Illinois State Scholar and an AP scholar in addition to his involvement in the Service Club.
Cassidy will attend the University of Illinois on the full-ride Chick Evans scholarship and major in sports agency.
Nicole Reynolds, another 2023 EPCHS co-salutatorian, is a softball player who earned All-Conference her junior year. She is a Mathlete and has earned several accolades in regional and state Mathletes competitions. She has also been involved in FBLA and NHS, and is an Illinois State Scholar as well.
Reynolds will attend Roosevelt University in Chicago and major in accounting.
By The Numbers: EPCHS Class of 2023
Total Scholarships Earned: $13,853,731
Total Individual Scholarships: 280
Presidents Education Award: 20
IHSA Scholastic Achievement Awards: 58
Illinois State Scholars: 17
23 Students Achieve Perfect Attendance Throughout 2022-2023 School Year
Twenty-three Evergreen Park Community High School students were recognized by Principal Bill Sanderson at a breakfast in the school cafeteria on May 19 for having achieved perfect attendance for the 2022-2023 school year.
Perfect attendance is truly an accomplishment, and we commend the following students and their parents for their focus on coming to school each day: Dareonna Abdul, Ryan Arethas, Jack Bledsoe, Adrian Buenrostro, Matthias Davis, Giancario DeArcos, Braxton Delk, Tyler Duran, Deijon Feliciano, Lauren Gatewood, Nadia Gilmore, Makayla Knight, Alan Martinez, LeeSeas McCorker, Kameron Oden, Saanvi Patel, Daphne Sichelski, Samantha Sliter, Rosebud Summers, Ashley Taylor, Brianna Uwajeh, Johnatthan Whiteside and Jai Willis.
We thank the EPCHS STamPede booster club who sponsors the perfect attendance breakfast and provided $10 gift cards to Cravings and Smoothie King for a raffle for all who attended the breakfast.
Prom Night a Stylish' Success
Evergreen Park Community High School hosted a successful Prom Night on May 21. For the first time, prom was held at the Rockwell on the River venue on Chicago's North Side. All prom attendees then boarded The Odyssey cruise ship from Navy Pier for a post-prom event offering stellar views of the Chicago skyline.
Upcoming Retirements at EPCHS
Principal Bill Sanderson, Director of Curriculum Deb Schillo and maintenance worker Karl Schoenhofen were recognized during the final faculty meeting of the year on their upcoming retirements. We wish them all the best!
Follow EPCHS on Social Media!
Perhaps the favorite end-of-school-year tradition among students at EPCHS is the "Float Your Boat" challenge. Teams of students and teachers alike design cardboard boxes with the hopes of them making it across the full length of the pool. See the photo highlights below!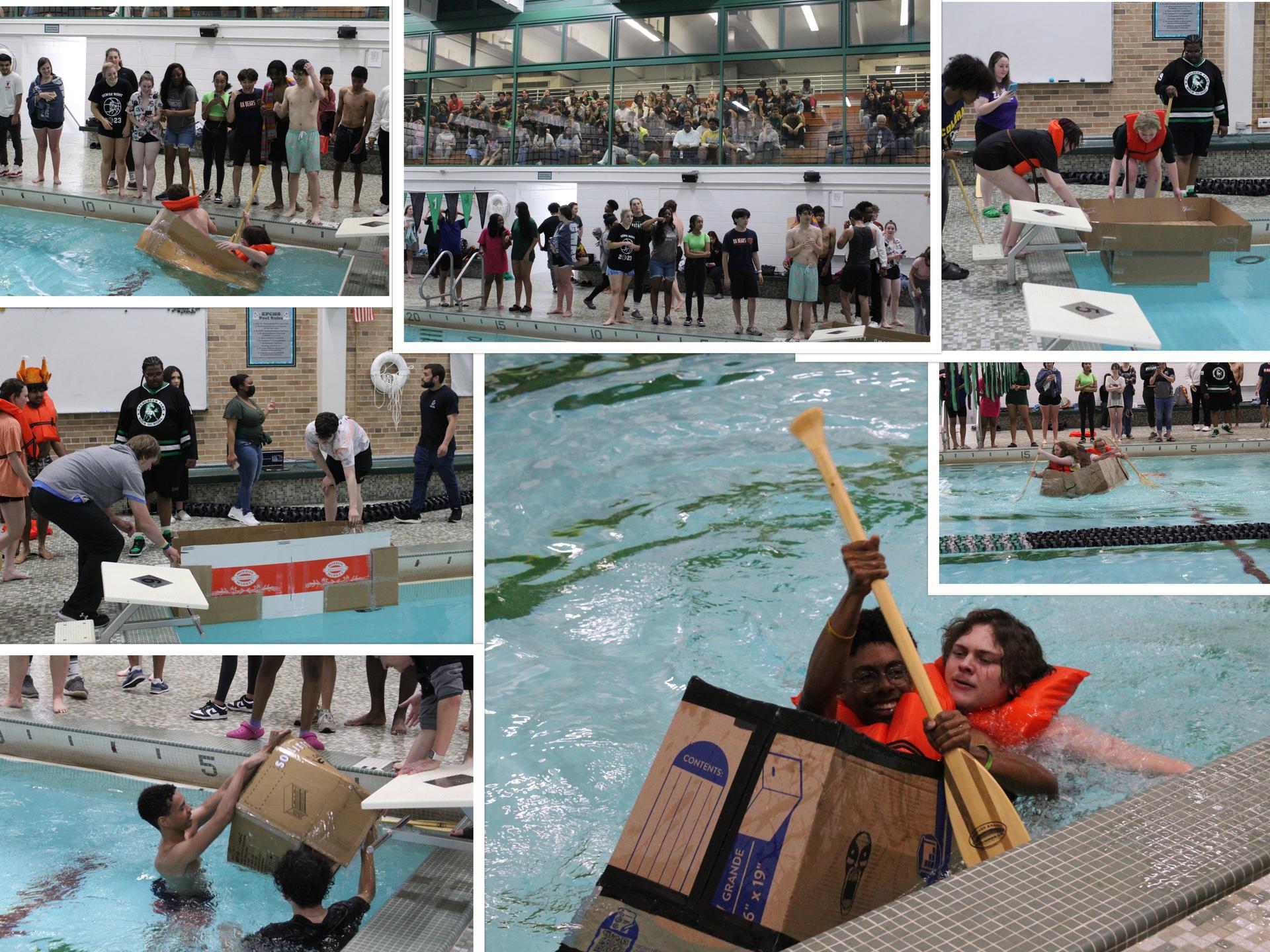 Legendary EPCHS Baseball Head Coach Mark Smyth has announced his retirement from coaching after 23 years at the helm of the Mustang baseball program. He retired on the heels of the Mustangs' first outright conference championship since 1986 and after notching his 350th career victory.
The baseball team's conference title-clinching win came against Shepard on Tony Knight Night, an annual game in which the Evergreen Park community remembers the fallen Mustang super fan, Tony Knight.
The Lady Mustangs softball team also won their conference outright, the first time EPCHS has done that in more than 20 years. The team followed that up with an 11-1 win over Hancock to claim the regional championship.
Lily Strand, the Lady Mustangs' ace pitcher, won the South Suburban Red Conference Player of the Year award for the second year in a row.
Charley Burns, Sofie Panatera, Nicole Reynolds and Dora Cihocki were also named All-Conference softball players.
Alejandro Munoz was named the South Suburban Red Conference Baseball Player of the Year. He will continue his career on the field at Concordia University in Chicago.
Munoz was joined on the All-Conference team with Evergreen Park teammates Jack Hughes, Grady Elwood, Leo Lesauskis, Luke Medina and Crispin Soto.
Four Boys Track stars - Rocco Cipolla, Isaiah Mosley, Tyrell Major and Nate Fernandez - qualified for the IHSA state finals at Eastern Illinois University as individuals.
Rocco Cipolla's 3200 meter run at state (9 minutes, 48.52 seconds) broke the school record in the event.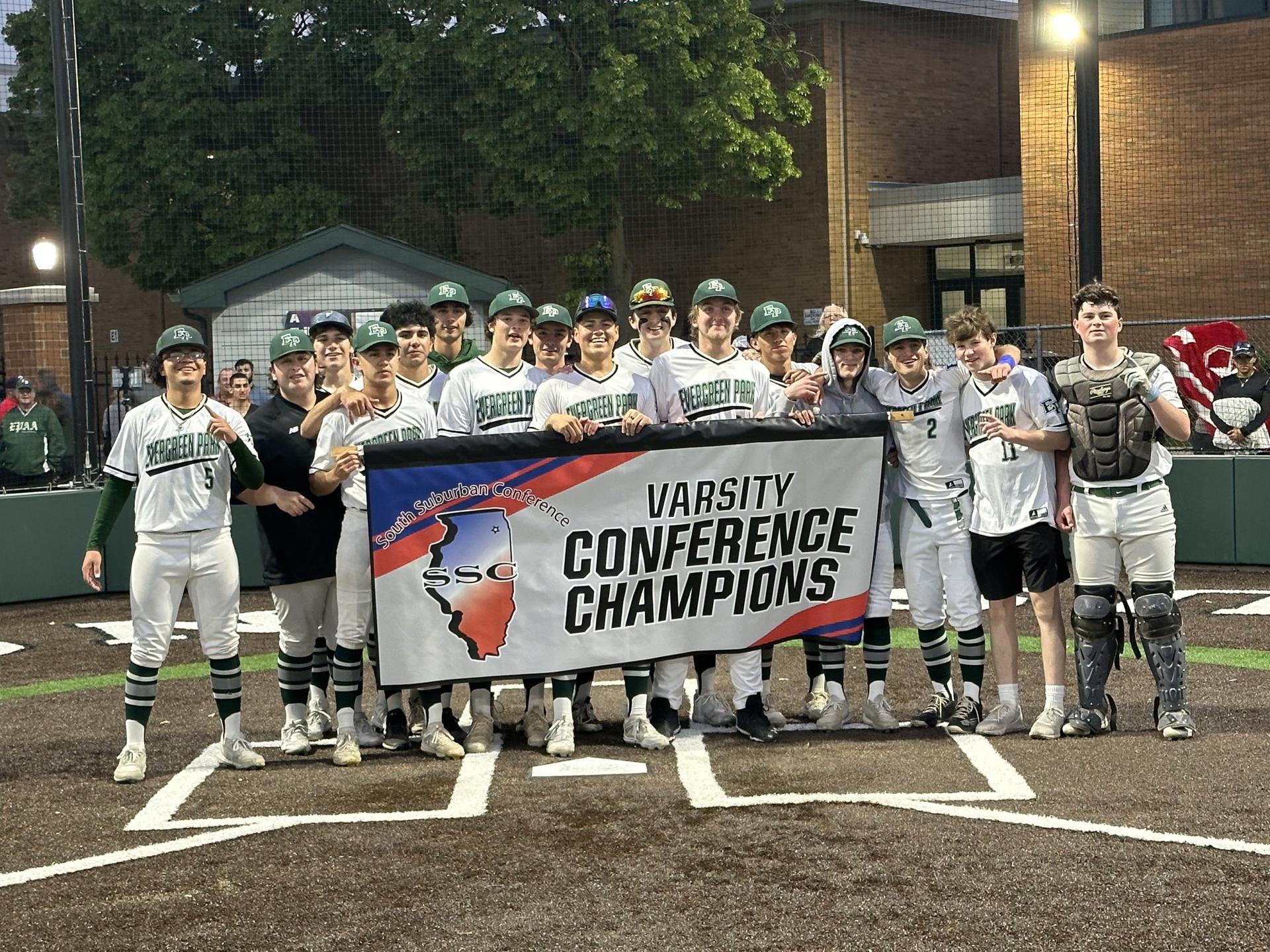 Varsity baseball players celebrate Evergreen Park's first outright baseball conference championship in 37 years.
June 2: EPCHS Alumni/Foundation Golf Outing
June 27: Board of Education Meeting