EP Alumni Quarterly, Fall 2022
Do you remember the words to the fight song? Send us a video of you singing, dancing or performing it on a musical instrument and we'll enter you into a raffle to win some Mustang swag!
- Email: Tim Moran at tmoran@evergreenpark.org.
Several alumni groups made it back to campus over Homecoming weekend earlier this month. We are grateful to have you all as forever Mustangs!
Ardith Inman, a longtime Evergreen Park Community High School teacher who also worked in the attendance office for many years, has passed away. She was 97.
We also mourn the passing of Roy Shobe, a 1971 EPCHS alum who was heavily involved with the EPCHS Education Foundation.
Above are the latest alumni spotlights we've featured. Do you know of an alum worthy of a spotlight feature? If so, send an email to tmoran@evergreenpark.org and we will reach out to them!
A LOOK BACK: We caught up with 1958 EPCHS alum Ron Muersch, who scored the first touchdown in Mustang football history. Read the story here!
Ron Muersch (pictured here) points to the photo of him in the 1958 EPCHS yearbook. Muersch is a retired Worth police officer who now owns the popular Krapils Steakhouse restaurant on 111th Street in Worth.
Homecoming 2022 was held the week of October 3-8, with a parade, football game and dance highlighting the fun. It was a beautiful parade day on October 7, and the Mustangs capped it off with an impressive, 41-14 win over Shepard High School on the football field.
Photo Below: Members of the Evergreen Park Community High School District 231 administration and board of education are joined by Village of Evergreen Park elected officials in leading the Homecoming Parade. Pictured are EPCHS Superintendent Tom O'Malley, school board members Laura McRae and Maryann Kutschke, Evergreen Park Mayor Kelly Burke, Evergreen Park village trustees Mark Marzullo and Jeannie Olson, EPCHS alum Marla Shobe and Principal Bill Sanderson.
PLEASE SHARE! Send this form to your high school friends so they can be included in our alumni directory like you are.
Follow Us On Social Media
School Year Off To Great Start
The 2022-2023 school year at your alma mater is off to a terrific start. Successes have been evident in the classroom, during after school activities and on the fields and courts for our athletic teams.
Some highlights include:
37 current students and 2022 graduates earned AP Scholar recognition by The College Board. An additional 83 current students can potentially earn college credit for receiving at least one 3 or higher on an AP exam.
133 current students were treated to a free lunch from the EPCHS administration for achieving Straight A's during the 2022 spring term.
The school library, known to all Mustangs as the LRC, is one of just six across Illinois to have been declared 'exemplary' by the Association of Illinois School Library Educators (AISLE) this year.
Our art department has earned us the title of a 'School of Distinction' by the Illinois Art Education Association (IAEA).
The Mustang Band and Color Guard participated in the University of Illinois' 'Band Day,' performing alongside the Marching Illini.
The Mustang football team is off to a hot start, beginning their season with a 5-2 record.
Senior golfer Charley Burns won the South Suburban Conference girls golf tournament for the third year in a row.
Our Boys Golf team also won conference as a team.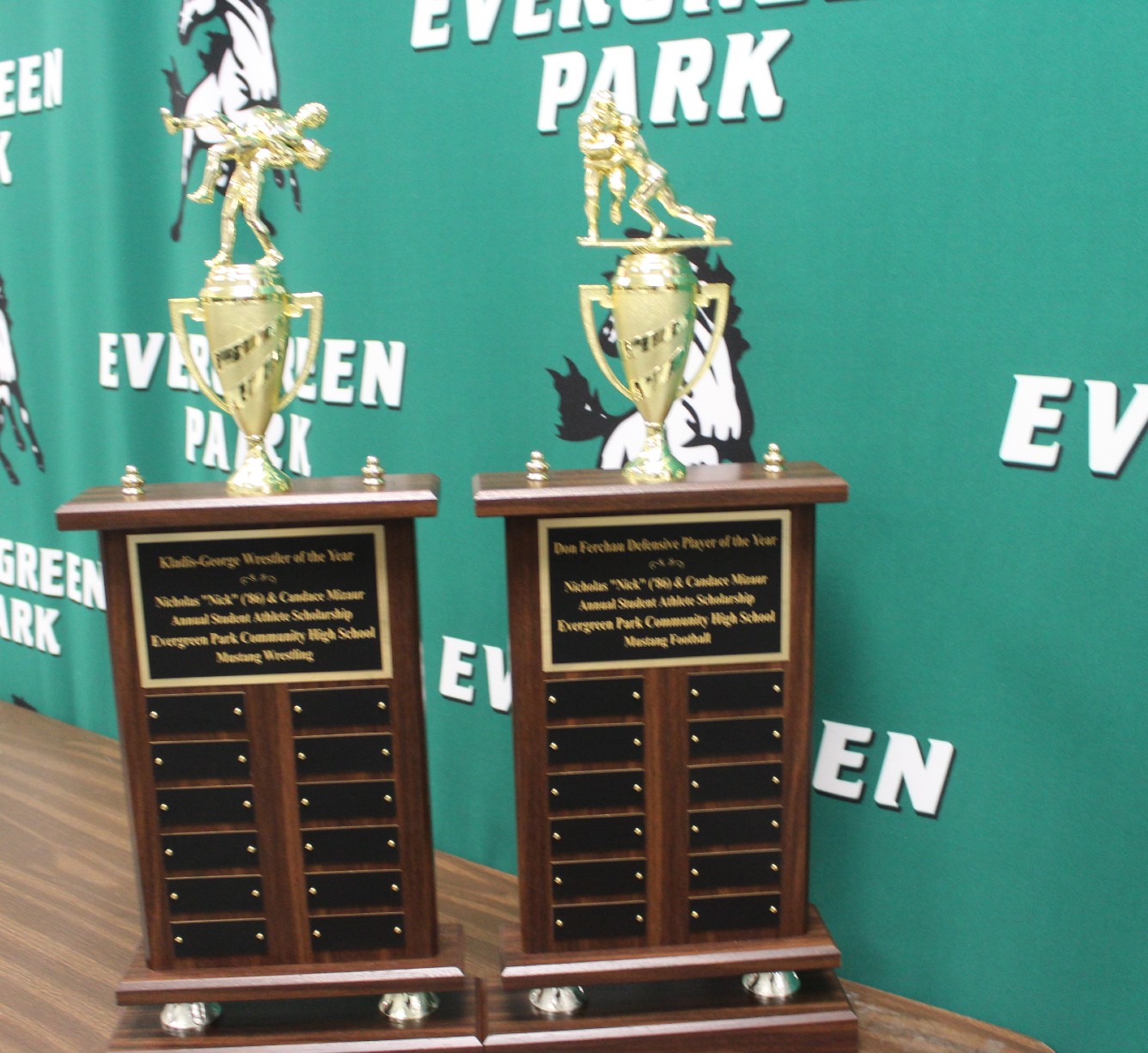 NEW SCHOLARSHIPS: Evergreen Park Community High School is pleased to announce the addition of two new annual scholarships, one for football and the other for wrestling. The student athlete scholarships are the result of donations from Nicholas (Nick) and Candace Mizaur.
Nick Mizaur is a 1986 EPCHS alum who participated in football, wrestling and track for the Mustangs.
The Don Ferchau Mustang Defensive Player of the Year Award will be open to any varsity defensive player on the Mustang football team. Students must be academically eligible and have no behavioral infractions during the entire school year to be eligible for the award.
The football award is in memory of Don Ferchau, Mizaur's Varsity Football coach during his years at Evergreen Park. It's the reinstatement of a Defensive Player of the Year award that Mizaur himself won in 1984.
"In the early 1980s, Head Varsity Football Coach Don Ferchau had introduced the award to be given annually to the best defensive player at the fall awards ceremony. Coach Ferchau stated at that time that he funded the award with his own money. Coach Ferchau died in September of 2019. His passing made me think about this award, how I could reinstate it, and provide something for the player who earned it," Mizaur said.
The Kladis-George Mustang Wrestler of the Year Award will be given to one varsity wrestler a year, Mizaur said, with the same academic and behavioral requirements for eligibility as the football award. Mike Kladis, Mizaur's former Mustang wrestling coach and John George, a former Mustang athletic director and wrestling mentor to Mizaur, share the namesake honor.
"I was coached and mentored by both men," Mizaur said. "My original interest and subsequent success in wrestling was partially due to their coaching and mentorship. With proposing the reinstatement of the football award, I thought it would also be beneficial to promote wrestling too."
Both awards will be associated with display trophies (pictured above) that will have the winners' names engraved on them every year. The scholarship awards will be in the amount of $1,000 each, with the Evergreen Park Community High School Foundation managing the scholarship funds and sending them to the college or trade school of the winning student's choice.
Mizaur, now the CEO of an Omaha, Nebraska based company, said the scholarship awards could become cumulative for student-athletes who win them multiple times.
"My wife and I are fortunate enough to be in the position to give back, and my time at Evergreen Park left a lasting impact on me," he said. "Football, wrestling - and track - those sports were very impactful and taught me a lot of life lessons about teamwork and leadership."
Scenes From The School Year
ALUMNI ACCOMPLISHMENTS: We'll start highlighting recent accomplishments by EPCHS alums in our next quarterly update. If you've recently landed a new job, got married, had children, or anything else of note, email it to tmoran@evergreenpark.org and we'll be happy to share it!
EPCHS SCHOLARSHIP FUNDRAISER: The EPCHS Foundation's scholarship fundraiser will return to 115 Bourbon Street this year. Details below!